Read our Monthly Newsletter
Irv Laserow, CPA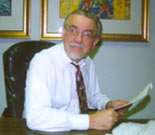 Irv Laserow has been a practicing Certified Public Accountant for more than 30 years.
Prior to becoming a CPA, Irv was a general manager at a Ford dealership for 10 years and brings his extensive knowledge of the auto industry to his CPA practice.
Irv has practiced extensively in small business accounts, taxation and consulting in individual taxation. He has worked primarily with individual partnerships and closely held corporations.
Irv Laserow, CPA
Bassman, Adelman & Weiss, PC
630 Sentry Parkway East, Suite 200
Blue Bell, PA 19422
voice: 215-628-0420
fax: 215-628-3461
email: irv@bassman.com
print: driving directions