Robert E. Sternberg, CPA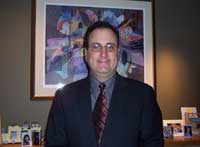 Robert E. Sternberg has been practicing public accounting since his graduation from The Fox School of Business at Temple University in 1983, when he joined Alan Bassman. Robert became a CPA in 1985 and a shareholder in the firm in May of 1993.
Robert has practiced extensively in the areas of small business accounting, taxation, tax planning, forensic accounting, litigation support, business valuations, and financial software recommendations.
Robert has testified in court as an expert witness in matters of economic damages, forensic accounting and business valuations. He is also a frequent speaker on individual taxation and tax planning.
"The key to representing small businesses is the ability to gain an understanding of what is important to my clients and defining their goals. I accomplish this by paying attention to their individual needs, listening to what they have to say and putting myself in my clients' shoes. In small business, the dollar amounts are far less than what I might see in some of my larger clients, but no less important to my clients and myself."
Robert's wife Nina also graduated from Temple University and is the CFO at Goodman Properties, a Jenkintown based Real Estate Development and Management Company. They live in Upper Dublin, PA. Their son Matthew graduated Temple University with degrees of Bachelor of Business Administration in Accounting and Masters of Accountancy. He is currently working at the auditing department of EisnerAmper, LLC in Center City Philadelphia. Their daughter Danielle graduated from The University of Michigan with a Bachelor of Science in Engineering degree and is currently working as a civil engineer at the Detroit office of Burns & McDonnell.
Robert E. Sternberg, CPA
Bassman, Adelman & Weiss, PC
630 Sentry Parkway East, Suite 200
Blue Bell, PA 19422
voice: 215-628-0420
fax: 215-628-3461
email: robert@bassman.com
print: driving directions